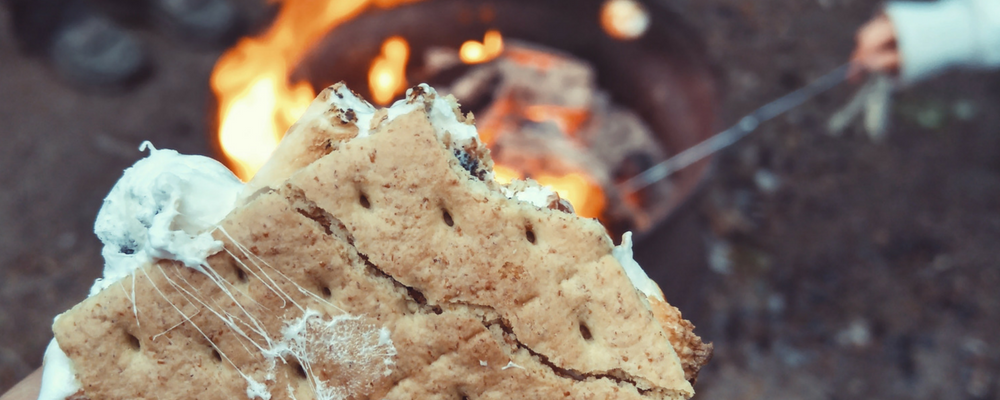 Forget S'mores! 7 Marshmallow Recipes to help you live Winter
in Winter
posted

November 14, 2016
Let's be honest – we love S'mores as much as you do. Is there really anything better then campfire roasted marshmallows and chocolate all smashed between graham crackers?  The feeling you get while your sitting around the campfire, laughing and just enjoying the great outdoors. While you try to make the perfect roasted marshmallow.
We've complied 7 Marshmallow Recipes that we think could be better then S'mores
Toasted Marshmallow Coffee Cocktails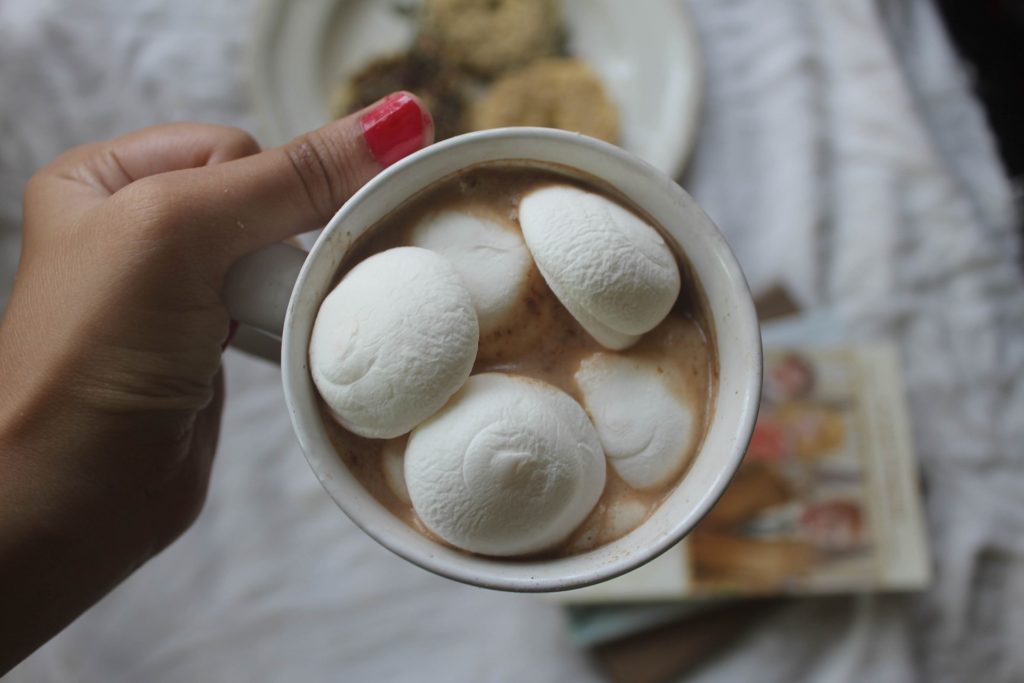 Ingredients:
8 oz whole bean coffee
3 quarts cold filtered water & 1 cup water
1 cup white sugar
1 cup light brown sugar
2 teaspoons Vanilla Extract
1 1/2 cups heavy cream (can substitute with other dairy or almond milk)
Marshmallows for topping
Directions:
Grind the coffee beans to medium-fine. Place the 3 quarts cold water and ground coffee in pitcher and stir to combine. Let that sit at room temperature overnight.
After cold brewing the coffee overnight, strain the mixture through a fine mesh sieve lined with a coffee filter, into a pitcher and then put that in your refrigerator.
Combine both sugars, and 1 cup water in medium sauce pan. Bring to a boil, stirring occasionally, and boil for 2-3 minutes until at a syrup-like consistency.
Stir sugar syrup into the cold coffee. At this point you can either add all the cream to the pitcher or add to each cup for a marbled presentation.  Either way the pitcher of coffee can be stored in the fridge for up to a week.
Pour iced coffee into an ice filled cup and then if you haven't added the cream, or dairy yet, do so now for marbling effect.
Top with a good amount of marshmallow cream and use a kitchen torch to roast the marshmallow topping.
Now you have your coffee – Life is complete.
Toasted Marshmallow Strawberries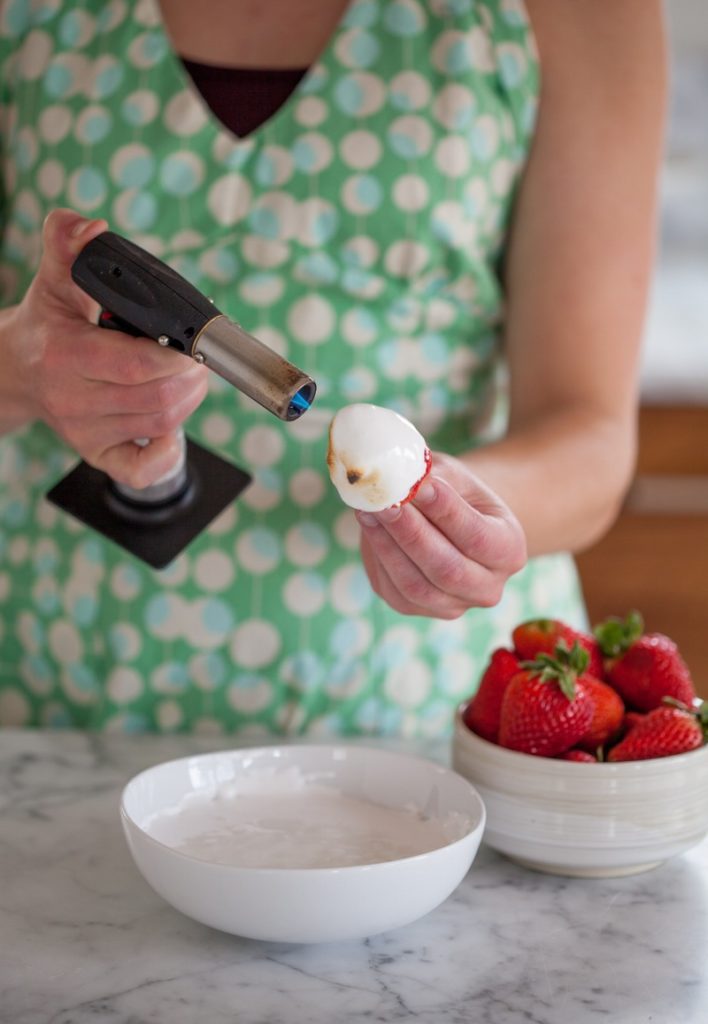 an easy quick dessert from The Kitchn
Ingredients:
1 pound strawberries, about 16 to 24 berries, washed and dried
1 cup marshmallow creme, or homemade marshmallow or meringue
Directions:
Warm the marshmallow creme: Put the marshmallow cream in a small bowl and warm in the microwave in increments of 5 seconds. The marshmallow creme should be easily spreadable but not runny.
Dip the strawberries in the marshmallow creme: Hold each strawberry by its top and dip deeply into the marshmallow. Swirl and flip the berry at the end to catch any drips.
Torch the marshmallow creme: Still holding the strawberry by its top, carefully toast the marshmallow with a kitchen torch until browned and toasty. Alternative: You can also do this over a gas stove burner (remove the grate over the burner), although we found it more difficult to control the amount of heat each marshmallow strawberry received; they got darker more quickly and often lit on fire. If you don't mind a real campfire taste, then this works fine.
Eat immediately! Lay the finished strawberries on a platter and eat immediately.
Roasted Marshmallow Oreos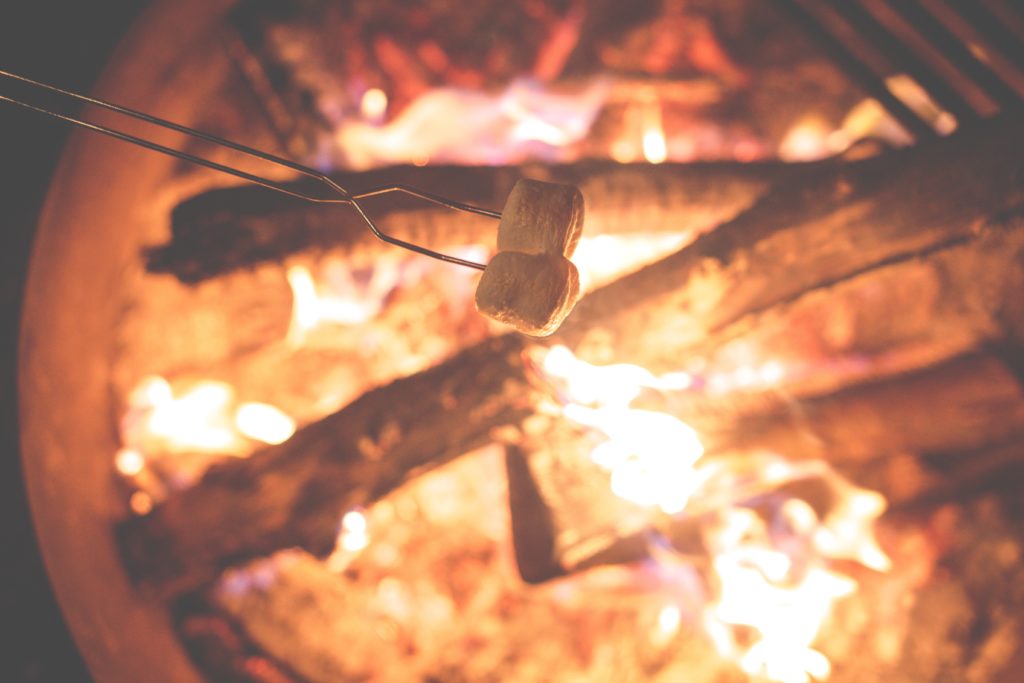 It's kind of like a S'more – except not.
Ingredients:
Oreo Cookies
Perfectly roasted marshmellows
Chocolate pieces are optional
Directions:
Roast a marshmallow to perfection (Tip: Not in direct flame, the coals are the best for perfect goldness)
Open an Oreo
Place Oreo sides on either side of the marshmallow and sandwich together (add in a piece of chocolate if desired)
Put in your mouth. Find your winter.
Strawberry Brownie Marshmallow Kabobs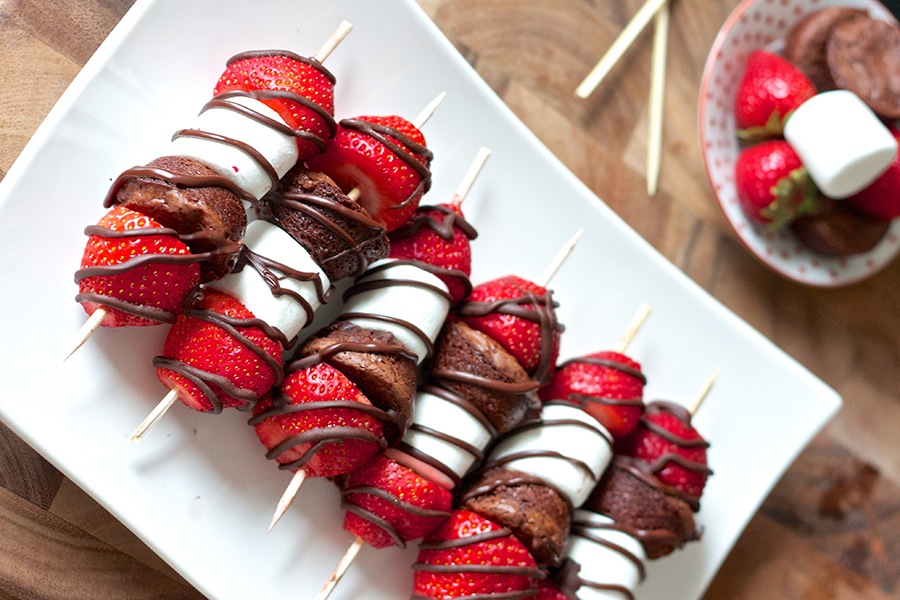 Ingredients:
Fresh Strawberries, whole, washed, & stemmed
Large Marshmallows
Brownie Bites
Semi Sweet chocolate Chips
Lollipop sticks or skewers
Directions:
Layer a strawberry, marshmallow, brownie bite and another strawberry on a skewer.
Melt chocolate chips in microwave safe bowl. Place in microwave at 50% power in 30 second intervals, stirring until melted.
Drizzle melted chocolate over kebabs. Serve
Toasted Marshmallow Shots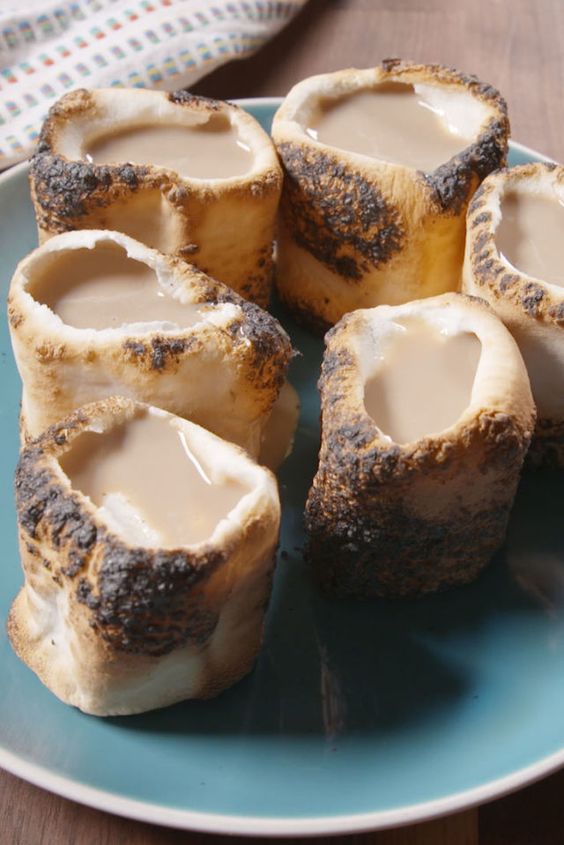 Impress your friends with these easy Marshmallow Shots – full recipe here
Ingredients:
6 jumbo marshmallows
Baileys, for fillingDirections:
Stick a jumbo marshmallow halfway up a fork and toast over a burner, turning occasionally, until very toasted and warmed through.
Use another fork to help slide the marshmallow off the fork; the center should sink and make a well for marshmallow.
Fill with Baileys and serve.Chocolate Pretzel Marshmallow Bites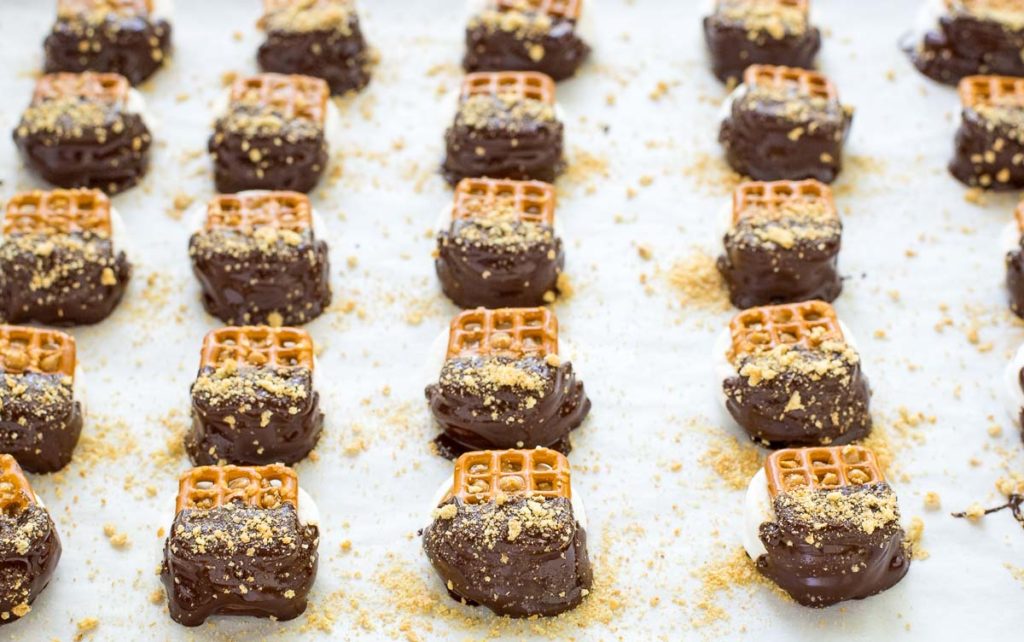 These are great for a party as it makes a ton – recipe from wellplated
Ingredients:
8 ounces chopped semi-sweet chocolate
2 teaspoons coconut oil
Square-shaped pretzels (also called pretzel snaps; 96 total)
24 regularly-sized marshmallows
1/4 cup creamy peanut butter (do not use the natural kind that must be refrigerated, as it will not set)
Finely crushed graham cracker crumbs (2-3 sheets will be plenty)
Directions:
Place a rack in the center of your oven and preheat the oven to 350 degrees F. Line two baking sheets with parchment paper or silpat mats. Set aside.
Place the chopped chocolate in a heatproof bowl, then place the bowl over a pan of simmering water, making sure that the water does not touch the bottom of the bowl. Melt the chocolate and coconut oil together, stirring occasionally. Once the chocolate has nearly melted, remove the pan from the heat and continue stirring to melt the chocolate completely. Set aside, leaving the bowl on top of the pan.
Arrange 48 pretzels in a single layer on the baking sheets, leaving at least 1 1/2 inches between each pretzel to allow room for the marshmallows to expand. Slice each marshmallow in half around its middle, then place one half on each pretzel. Bake until the marshmallows have melted a little and are just barely beginning to brown, about 5 minutes. Remove from the oven and let cool for 3 minutes.
Place a scant 1/4 teaspoon of peanut butter in the center of each marshmallow, then, using the peanut butter like glue, gently press a second pretzel on top to create a pretzel-marshmallow sandwich.
Remove the chocolate from the pan of simmering water. Quickly dip half of each s'mores bite into the melted chocolate. Place the s'mores bite on the baking sheet and, while the chocolate is still wet, sprinkle with graham cracker crumbs. Repeat for remaining bites. If necessary, place the baking sheet in the refrigerator or freezer for a few minutes to allow the chocolate to set. Enjoy!
Rolo Stuffed Roasted Marshmallows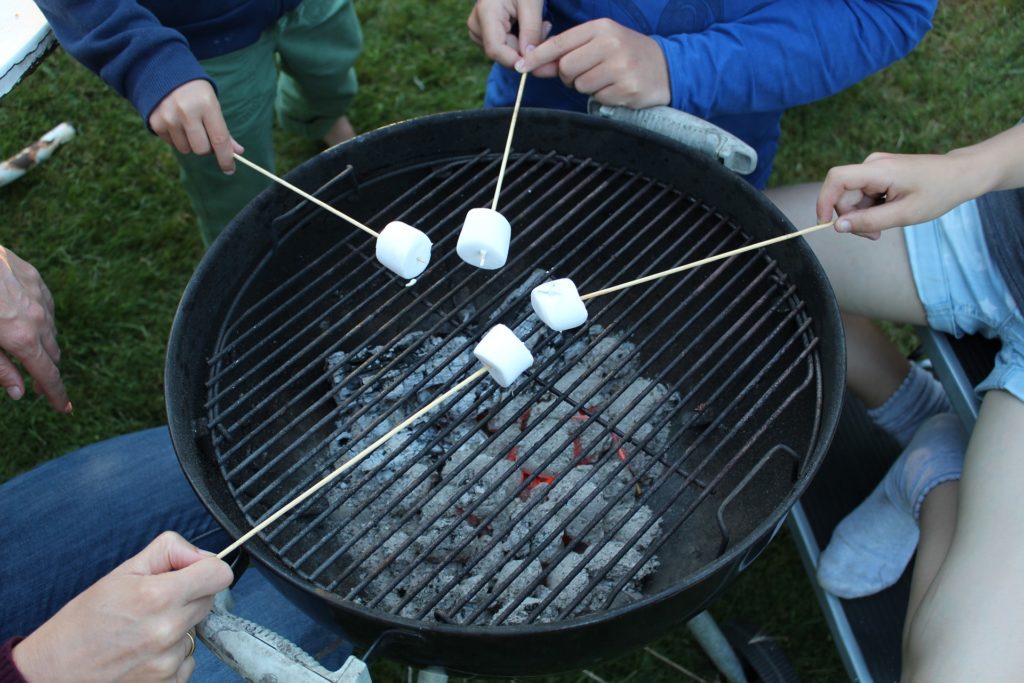 So simple, yet so good!
Ingredients:
Marshmallows
Rolo Candies
Directions:
Roast your marshmallow for a bit
Shove a rolo into your marshmallow
Continue to roast the marshmallow a little longer
Remove from fire let cool
Remove marshmallow from stick
Eat it.